[Download] Best GBA Emulators for PC [Updated]
Best GBA Emulators for PC [Windows 10/8/7+Mac]
Looking for Best Gameboy Advance Emulators for PC (a.k.a GBA Emulators) You are in the right place. Many of you still have an interest in the old Nostalgic games in this New Generation. But the thing is you don't have that OLD Consoles in your hand. Don't worry you can enjoy almost all Games better than before with the help of Emulators.

An emulator is a piece of software reproducing the inner workings of a computer or a console on another computer or console.
In this comprehensive List I'll cover:
What is Gameboy Advance Emulator?
BEST GBA Emulators for PC
How to use GBA emulator on PC
Download Gameboy Advance Emulators
Lots more
I personally tested and reviewed these GBA Emulators. So you can select the BEST emulator according to your PC specs and needs
You can check out the Best Gamecube Emulators right here
What is Gameboy Advance Emulator?
---
The Gameboy Advance or GBA Emulator was a truly revolutionary portable. It had several iconic games such as Pokémon Ruby and Sapphire, Wario Ware Twisted, Castlevania: Aria of Sorrow, Legend of Zelda: A Link to the Past with Four Swords and many more.
The evolution of Nintendo Handhelds was pretty Amazing!.
One day in 1979 on a Train ride home Gunpei Yokoi some individual just playing with their calculator (yeah We've all done this during Exams if you are allowed to use the calculator in the Hall. :)) That's when Yokoi got his Brilliant Idea
Game and watch were the first to console ever which have the D-Pad released in 1982 by Yokoi. It actually sort of worked like a calculator. On Nintendo's 100th Birthday GameBoy released it was also called the Dot Matrix game. it went extremely successful and in total there were 43 Million Game and watches sold. Next, they released Virtual Boy(Failed), then made the Gameboy Pockets which was a slimmer version of the Gameboy, next was Gameboy Color there was no backlight in that model in the same year Nintendo released Gameboy Light, but it was just
Gameboy pockets with Backlight.
Eventually, in 2001, the Gameboy Advance was released. Development of Gameboy Advance took about 4 Years. and it became one of the most popular beloved handheld game systems ever created. honestly saying this is still worth playing:). It's the games that define Gameboy advance because there's a lot of them, more than a thousand worldwide. Another good feature is, It can also play old-school Gameboy and GameBoy Color Games which is pretty Amazing.
Game Boy Advance Technical Specifications
| | |
| --- | --- |
| Size: | Approximately 14.45 cm (5.69 in) x 2.45 cm (0.96 in) x 8.2 cm (3.2 in) (LxWxH), 140 g (4.9 oz). |
| Resolution: | 240 × 160 pixels (3:2 aspect ratio). |
| Screen: | 2.9 inches reflective thin-film transistor (TFT) color LCD. |
| Power: | 2× AA batteries |
| Battery life: | Approximately 15 hours on average while playing Game Boy Advance games |
| CPU: | 16.8 MHz 32-bit ARM7TDMI with embedded memory. 8.4 or 4.2 MHz Sharp LR35902 (8080-derived) |
| Memory: | 2 kilobyte + 96 kilobyte VRAM (internal to the CPU), 256 kilobyte DRAM (outside the CPU). |
| Sound: | Dual 8-bit DAC for stereo sound (called Direct Sound), plus all legacy channels from Game Boy. |
Reference: Wikipedia
Best Gameboy Advance Emulators for PC
We listed Almost all popular Emulators working in Windows-based PC's. Choose Best GBA Emulator For Your System from the below list. Filter the list and make a choice according to your needs. 🙂
Note: Use these emulators with your own ROMs or video games. Using emulators with ROMs you do not own is illegal…
1. Visual Boy Advance GBA Emulator
Visual Boy Advance is probably the best GBA Emulator available right now. it is available for Windows and Mac-based systems. High-Speed Performance is one of the defining features of this Gameboy Advance Emulator.
Install Microsoft DirectX for Proper Gameplay
VisualBoyAdvance Features:
VBA Emulator supports old Gameboy and Gameboy Color Games also
Save States Feature
We can create Cheats
Screenshot Option & Full Screen View Available
We can Modify Colour Palettes
gba, gbc, gb, sgb, sgb2 are Supported.
---
---
2. No$gba GBA Emulator for Windows
No$gba which is abbreviated as "No cash gba", as the name means you can play Gameboy Advance and Nintendo DS games without a single penny. yes, it is a Nintendo DS / DS Lite and GameBoy Advance emulator for Windows 10, Windows 8/7/XP and MS-DOS. Multiple OS support is one of the biggest advantages of this Emulator. And No$gba can play both Commercial and homebrew games.
You can download the latest version 2.9 of No$gba from below.
No$gba Emulator Features
Multiplayer Gaming Support
No$gba can emulate almost all known save types and capable of reading multiple cartridges
It can load Multiple NDS Roms
Fullscreen gaming is supported with NO$Zoomer
High-speed Emulator with no glitches in graphics.
---
Also Check: Best Gamecube Emulators You Need to Know Today
3. mGBA – GBA Emulator for Windows
mGBA is an open-source Gameboy Advance Emulator. and it can play old Gameboy & Gameboy color Games also. Thanks to the developer Endrift. It targets reliability, accuracy, and speed. By yet, it's probably the very complete GBA emulation attempt.
Features of mGBA Emulator
Support rewinding and Fast Forwarding.
You can play NES classic series Games (Bomberman, Castlevania, Dr. Mario, Pac-Man..etc)
Solar sensor Emulation support for some specific Series
Support Basic Cheat codes
Save state compatibility
mGBA support Patching of IPS & UPS at runtime
Tilt sensor emulation & Rumble Pak emulation Supported
Real-time clock Synchronization for many games
---
---
---
4. Higan GBA Emulator for PC
Higan is a classic Nintendo console emulator formerly known as BSNES. Higan compatible with emulating NES, Super NES, Gameboy, Gameboy Color and Gameboy Advance ROMS.
Primary supported systems of Higan are Windows 7+ (64-bit) and FreeBSD 10.0+. Secondary supported systems are macOS 10.7+, Linux 3.2+, Windows 7+ (32-bit).
Features of Higan GBA Emulator
Multiple console emulation supported
Rumble compatibility for Gameboy Color & Gameboy Advance
High DPI Support
In Game save support for most of the Games
Rendered by multi Threaded PPU
High Accuracy with low-level emulation[LLE]
---
5. RascalBoy Advance GBA Emulator
RascalBoy is one of the BEST Lightweight GBA Emulators for PC. Don't get confused by its Size (275KB), it had the ability to do most of the core functions of Gameboy Advance. Thanks to the Developer Lino Maglione. You can download RascalBoy Emulator and it's Multiplugin from below.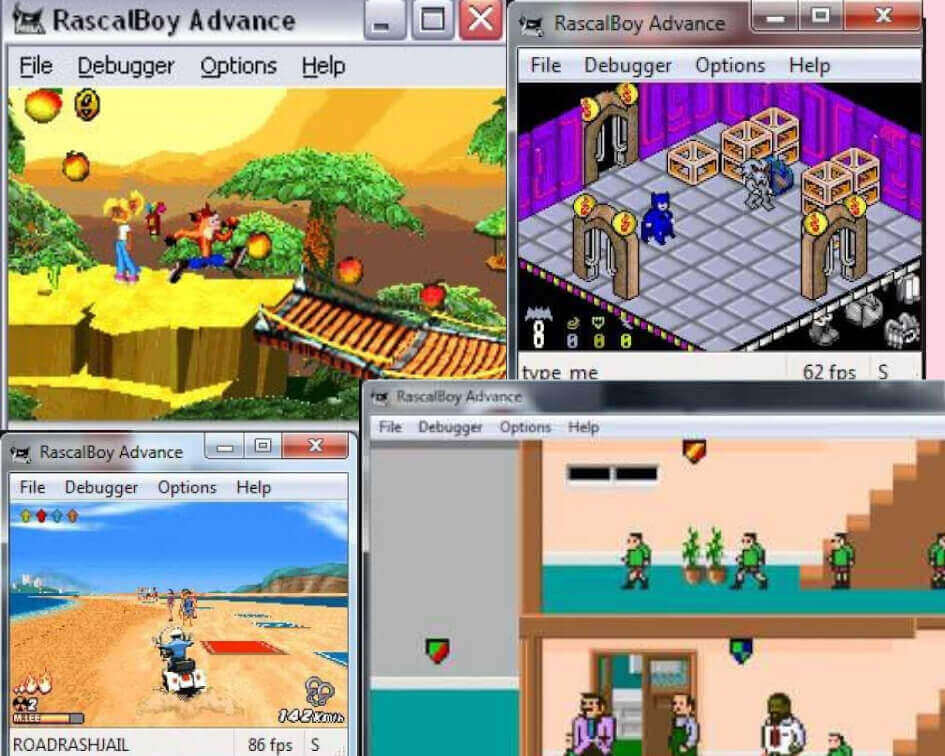 Features of RascalBoy Advance
Multi-Plugin for Multiple connection Support
Enable and disable visualizzation layers.
Video filters Blur, Bilinear, Motion Blur and TV Mode.
Frameskip support
Keyboard/Joystick support
Rendering zoom x1, x2, x3
ARM CPU & THUMB CPU Debugger
Pause & Reset emulation
---
RASCALBOY ADVANCE Details
| | |
| --- | --- |
| Name: | RascalBoy Advance 1.3.0.0 |
| Size | 275 KB |
| Platform | Windows |
| Console | Gameboy Advance |
| Downloads | 4700+ |
---
---
6. Boycott Advance Emulator
BoycottAdvance is a free and portable emulator for the Nintendo Gameboy Advance handheld. BoycottAdvance is available on Windows, Macintosh, BeOS, Linux, FreeBSD and there is even a Java port, playable online. Minimum Requirements are a Pentium III 700 Mhz (to get full speed and full sound in most games).
Good Compatibility with most public and commercial games
Full Sound Emulation (Direct Sound and Gameboy Compatible Sound)
Good Video and Sound Synchronization
Frameskipping and Auto-frameskipping, Throttle Support
Real BIOS Support
Load/Save States
Windowed and FullScreen Display
WAV/MP3 Sound Recording
Input Recording
Zip/GZip Files Support
Built-In Debugger
Joystick Support
---
---
---
7. BatGBA Emulator
Another Lightweight Emulator for Playing Gameboy Advance games on PC. BatGBA emulator works even in very Low configuration PC's also.so it only requires win9x/NT/2000/XP with directx7 for work. One thing you need to remember is Bios image is a must for BatGBA to work.
BatGBA Emulator Features
Screenshot feature supported (png /bmp)
Franeskip support
New debugging features with latest version
60fps vsync
pause/reset option
You can disable debugging
---
Conclusion:
So these are the BEST Gameboy Advance Emulators for PC. These GBA Emulators list is for Windows, Mac, Linux Operating Systems. Are there any Emulators that you like not on this list? Let us know in the comment section below:).
If you got the desired information from this guide Share it with your friends:)
related articles:-
How to Increase Internet Speed in Windows 7
Install Nintendo Animal Crossing Pocket Camp APK on your Android
BEST Gamecube Emulators for Android/iOS/Windows
BEST Gamecube Emulators For Android/iOS/Windows [NGC]
Some of you may remember the revolutionary Gamecube which had a handle on the bags and we could take it anywhere and play. It changed our childhood experiences to a whole new level :). So I'm SUPER excited to show you the BEST Gamecube Emulators for Android, iOS, and Windows
Let's get started!
What is Gamecube Emulator?
A Gamecube Emulator is a Software that can be used for playing Nintendo Gamecube Games On your Android/iPhone/PC..or some other Gadgets. And one advantage of this Emulators is this Games will run smoothly and gameplay will be Amazing because of the New Generation Hardware Technologies
Looking for Best GBA Emulators
After the release of Gamecube in the year 2001, they were in-trend among Gamers, and the Gamers in this generation also wants to play these Games on their Gadgets
Some of the popular games are Super Mario Strikers, Super Mario Strikers and Prince of Persia: The Sands of Time
Know more about
Reference:
Wikipedia
BEST GameCube Emulators for ANDROID
Maybe due to the terrific demand of Nintendo GameCube emulator, you can easily find NGC emulators on the web. But the purpose is properly served by few.
Here we gonna mention some GameCube emulators that are very best connected to Android devices, to help you make a choice.
#1 Dolphin Gamecube Emulator for Android
Dolphin is a GameCube and Wii emulator with high compatibility across the majority of titles for both platforms. more than 200 peoples hard work over the years made the Dolphin Gamecube Emulator. And Dolphin is rated as the Best Gamecube Emulator for Android
Dolphin runs on Android 5.0 and up on 64-bit Android devices. The Android version of Dolphin is in alpha and should not be expected to work as well as the PC counterpart. (Source: Dolphin Official ). You can download dolphin Gcube emulator apk from below link or download it from Playstore
Download Dolphin Emulator From Playstore
---
Dolphin Gamecube Emulator APK Direct Download
---
Dolphin Emulator Gameplay Screenshots
---
#2 DraStic DS Emulator
DraStic is a fast NGC emulator for Android. In addition to being able to play Nintendo DS games full speed on many Android devices.
Worth the money as far as how well it emulates DS games can handle filters, biggest compatibility list for Android, loads of optional features.
Features
Fully supports add-on controllers and physical controls in devices like nVidia Shield and Xperia Play
Enhance the game's 3D graphics to 2 by 2 times their original resolution (this optional feature works best on high-end quad-core devices)
Tweak your gaming experience with a database of thousands of cheat codes
Synchronize your saved games with your online Google Drive space
Customize the placement and size of the DS screens, for portrait and landscape modes
Increase emulation speed with fast-forward
Download DraStic DS Emulator from Google Play store
If you don't have enough money to buy this Emulator APP search for the app in this Premium Telegram Group
---
#3 ClassicBoy (GCN Emulator)
ClassicBoy is an All in one emulator let you play classic games by gestures and sensor that you've never seen before!. There is a lite & Full version of this app. Full version contains some extra valuable features.
Currently, it runs:
PlayStation 1 ( PS1 )
Nintendo 64 ( N64 )
GameBoy Advance ( GBA )
GameBoy Classic ( GB )
GameBoy Color ( GBC )
NES/Famicom
Sega Genesis
SNK NeoGeo
Features of ClasicBoy GCN Emulator
Custom setting for game video size and filter.
Graphic buttons editor for position and size definition. Graphic buttons appearance custom settings such as style, scale, animation, opacity
Controller profiles (trial) such as PS3, XBOX360 and MOGA are supported.
Touchscreen input from graphic buttons.
Game state auto-saved and slot saved
External Joysticks/keyboard input by keys mapping, maximum of 4 players are supported.
Gestures/Sensor settings
Download ClassicBoy AllinOne Emulator
---
Check Out: How to Increase Internet Speed in Windows
Ultrawide Wallpapers – 3440×1440 | 21:9 | 4K | UHD Download
BEST GameCube Emulators for PC (Windows, MAC & Linux)
Choose Best Gamecube Emulator For Your PC according to your CPU specs and needs
If you need Best Gameboy Advance Emulator for PC
#1 Dolphin Emulator (Best Gamecube Emulator for PC)
You already saw this name in the section Best NGC Emulators for Android. Yes unlike android version we can use the Stable version of Dolphin on our Windows, MAC or Linux PC.
Dolphin is an emulator for two recent Nintendo video game consoles: the GameCube and the Wii. It allows PC gamers to enjoy games for these two consoles in full HD (1080p) with several enhancements: compatibility with all PC controllers, turbo speed, networked multiplayer and even more
System Requirements
Every game has different requirements some titles may require a powerful computer while some other titles may not, Generally, these are the minimum recommended requirements for Dolphin
OS: 64-bit edition of Windows(7 SP1 or higher), Linux or Mac OS(10.10
Yosemite or higher) Windows Vista SP2 and UNIX-like systems other than Linux are not officially supported but might work
Processor: A CPU with SSE2 support. A modern GPU(3Ghz and Dual core, not older than 2008) is highly recommended.
Graphics: A reasonably modern Graphics Card (Direct3D 10.0 / OpenGL 3.0). A graphics card that supports Direct3D 11 / OpenGL 4.4 is recommended
Features
Play Gamecube Games at Full HD Resolution
Gamecube Broadband Adapter support
Save states support & Customisable Controllers
Compatibility to all Nintendo Wiimotes, Balance Boards, Motion+ and more
Stable and fast netplay lets Dolphin host online tournaments (Any Gamecube game with multiplayer can be taken online)
Wii Console support with Configurable controls
CONS:
Requires High-end CPU's to run Heavy Game ROM's
Download Developer beta version or stabe version from below link
---
#2 Super GCube Emulator
SuperGCube is a popular Gamecube emulator for Windows. It is based off the Discontinued Gamecube. This Win32 Emulator can outperform other emulators but unfortunately, the development stopped some time ago and other emulators have outdone Gcube
Features
Fast interpreter core
Two rendering modes
GUI front-end
High Optimized Emulation core
---
#3 WhineCube GCN Emulator for Windows
WhineCube is a GameCube emulator which saw a couple of releases back in the day. It is made with C++ language and only available for Windows. WhineCube can load and execute DOL, ELF or GCM format executables with images, pad, DVD and audio emulation.
Not so many Playable games and Very small in size Gamecube Emulator. Whinecube Emulator support HLE Primitive System -High Emulation. and it will work on Almost every Old PC's
It might only play demos and a couple of PAID games. Since that time, it's been stopped, but the source is accessible for other emulator writers to learn from.
Features
A very High-speed Emulator
Customizable controls
CONS:
Log Out and Crashing issues
---
#4 GCEMU Emulator
If you want to play old Gamecube Games on your Windows PC try this GCEMU Emulator. This NGC Emulator will work on almost all OS's. But you will miss some features you get on other Gamecube Emulators.
Enulator Info
PROS:
Doesn't need BIOS images to run
Emulation model is pretty Fast
CONS:
Incomplete Emulator, Abandoned by Developers
Due to Instability, GCEmu has crash issues
---
#5 Dolwin Emulator
Dolwin is a small Opensource Gamecube Emulator written in C language. Developers says that it can't run Commercial Gamecube Games but you can try, some may run. so don't expect a high-level performance for commercial games. It is available for Windows only you can download it from below link
Dolwin Emulator Details
---
Conclusion
So the article gives you all round information about BEST Gamecube Emulators for Android and PC (Windows, Linux, MAC). It is pretty amazing that we can play all of Our favourite Video Games in our Gadgets.
if you have any suggestion to include in this list then use the Comment option below:)

If you found this Best Gamecube Emulators list helpful then do share it with your friends and Leave a comment below if you have any related queries with this.
Check out:
FREE SUBSTRATUM Themes for ANDROID
Download Animal Crossing Pocket Camp APK by Nintendo