500,000+ FREE Audiobooks Websites [Download& Listen]
Best Websites for Free Audio Books
Who doesn't love to read books where you can dive into the ocean of vast knowledge giving incomparable pleasure. Talking about the benefits of reading it not only gives us knowledge but also improves our memory, vocabulary, reduces stress, and many more where mentioning each one of them might take hours.
No doubt that reading is an inestimable activity, but lately, it has been observed that the fashion of reading books is dwindling day by day due to the tight schedule every individual is going through where taking out time to read a book seems to be impossible and then here comes our rescuer-AUDIOBOOKS, one of the greatest inventions in our latest technology for all the book lovers out there.
So what is an Audiobook?
Audiobook or say a reading book is nothing but a recording of a book or any other work which is read out loud. Initially, it was named "talking book" in the 1930s, which was a government-initiated program chiefly for blind people. Later the term "audiobook" came into use during the 1970s when audiocassettes began to substitute records. Though audiobooks in India started to appear a little later compared to the rest of the world.
The audiobook comes with great satisfaction to the book lovers to read and listen to there desired books at the same time. They serve as a great way to spend time, be it while your morning walks or your daily house chores. Not only meeting the needs of adults but also of the children keeping them occupied imparting great knowledge to them.
Fortunately, now you can have access to these online with sterling narrators, which are all free of cost, and you don't have to pay a single penny.
Websites to Find FREE Audiobooks Online
You might have the misconception that these audiobooks would cost more than the book because you know someone is reading it out for you. But this is not always the case. Some sites host free audiobooks to the public. We have reviewed a list of websites where you can download or listen to audiobooks for free.
Here's our pick for the best audiobook websites:
1. LibriVox
LibriVox is a group of people from all over the world who read and record texts creating free audiobooks that can be further downloaded through the websites and other digital library sites present on the internet just for free. The main objective of LibriVox is "To make all books in the public domain available, for free, in audio format on the internet."
The main feature which makes LibriVox outcast various other sites is its diverse collection of recordings. Collections starting from classic fiction to poetry to religious text and many more. Being entirely volunteer-based, it also offers numerous opportunities to people who are great speakers providing them with a suitable platform.
Finished recording or say the audiobooks are available on the official website of LibriVox, and being free of copyright, one can easily have access to the audiobooks.
Speed up your Internet using CMD [Windows GUIDE]
2. Lit2Go
Lit2Go has a vast range of collections of poems and stories in Mp3 format where people can go an have access to all their favorite books. Lit2go has made their audiobooks based on readability using the Flesh-Kincaid Grade Level index. This website kept running by Florida's Educational Technology Clearing House, contains a comprehensive collection of downloadable short stories and ballads that you can browse by author, title. It is a fantastic place to get audiobooks even you are not an educator.
Each and every book can be downloaded by chapter and includes popular classic titles like Aesop's Fables, Alice's Adventures in Wonderland, Anne of Green Gables, Oliver Twist. You can browse these books through genres like Fables, Gothic, Epic, Adventure, Informational, among others.
The main trait of Lit2Go is that each reading passage can also be downloaded as a PDF and then printed for later use as a read-along or as supplemental reading material for your classroom, which can help the student to refer to it whenever needed. Lit2Go organizes more than 200 titles by authors citing a clear genre description and a proper summary, which helps both teachers as well as the young students.
Windows Keyboard Shortcuts You Must Know
3. Loyal Books
Initially, it started with the name tag of "Books should be free," and later on, its name changed to Loyal books. Books that have made its mark to the public domain are narrated by the top-notch narrators who coordinate among themselves, giving us the best yield. Since all the books in the Loyal Books are in the public domain, so no one holds the copyright of the books, and each and every individual is free to distribute it. Being a screen reader-friendly, it also gives proper access to people with vision disabilities.
4. Open Culture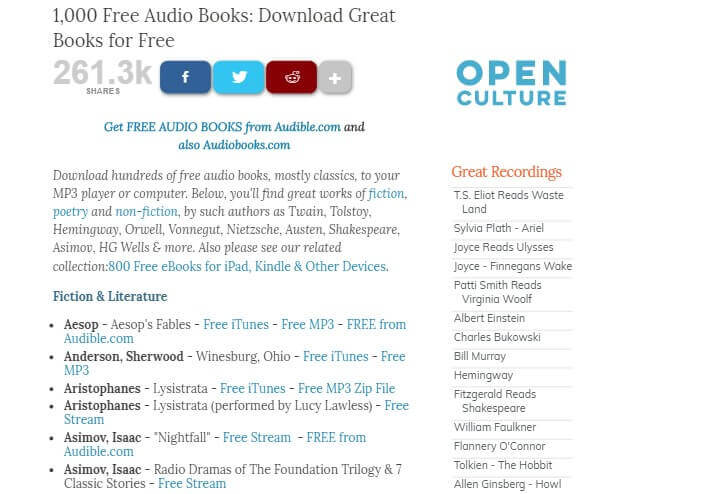 Open Culture was founded in the year 2006, providing free audiobooks and eBooks to its users. It brings together the best cultural as well as educational media on the web. The whole mission of Open Culture is to centralize all the available content, curate it, and give you access to high-quality content.
For some reason, OpenCulture had organized their books in alphabetical order, which proves to be useful to some people. In their own words, ' Open Culture brings together high-quality cultural & educational media for the worldwide lifelong learning community.' Almost all the free audiobook content is scattered all across the web and, thus, not easy to find. OpenCulture has done a decent job in centralizing the content, curating it, and granting full access to the public.
5. OverDrive
OverDrive is an American digital distributor that provides free access to eBooks and audiobook content. It was founded in the year 1986 in Cleveland and initially converted analog media to digital formats.
OverDrive is now compatible with major e-reading devices, including Android, Palm, BlackBerry, Kobo, specific ChromeOS devices (via Android cross-compatibility), iPad, iPhone, iPod Touch, Mac, NOOK.
6. Podiobooks (Now Scribl)
Podiobooks has been the backbone for hundreds of free serialized audiobooks from various authors. Now Podiobooks.com has merged with Scribl making the slightest changes.
Here the titles are priced according to how the fellow fans rate the work. As the less popular titles and priced low and vice versa. Also, at Scribl, every audiobook one buys includes an ebook edition that is entirely free of cost.
7. Project Gutenberg
Project Gutenberg (PG) is a volunteer-based effort to digitize and archive cultural works, to "encourage the creation and distribution of eBooks." It was endowed in 1971 by American writer Michael S. Hart and is the most old-fashioned digital library. As of 23 June 2018, Project Gutenberg has 57,000 items in its acquisition of free eBooks marking its enormous success.
Most books in the Project Gutenberg collection are distributed as public domain under United States copyright law. Project Gutenberg is deliberately decentralized. For example, there is no preference policy formulating what texts to add. There are also a few copyrighted texts, such as those of science fiction author Cory Doctorow, that Project Gutenberg distributes with proper authority. These are subject to additional restrictions as specified by the copyright holder, although they generally tend to be licensed under Creative Commons.
8. Spotify

Spotify Technology S.A. is a Swedish media-services provider founded in 2006. The company's prime business is its audio streaming staging that caters to DRM-protected music and podcasts from record labels and media organizations. Currently, Spotify is running over 79 countries. As a freemium service, essential features of Spotify are free with advertisements or automatic music videos, while additional functions, such as improved streaming quality, are offered via paid subscriptions.
Launched on 7 October 2008, the Spotify platform provides access to over forty million tracks. As of 2019 April, Spotify had 217 million monthly active users, including 100 million paying endorsers. In Spotify's apps, music can be scanned or explored via various parameters, such as artist, album, genre, playlist, or record label. Users can organize, edit, and distribute playlists, track sharing on social media, and create playlists with other Spotify users. You can access over 40 Million songs on Spotify.
9. Storynory
Storynory was founded in November 2005 and had been providing its users with free audio stories since then. They aim for their audio stories to showcase creativity, good literature, and excellent narrations. This is a low budget, self-governing podcast – but that does not stop them from aiming high.
Most of the stories are aimed at an age group of around 7 to 11 years. However, they do have some nursery stories and rhymes for preschool, and some quite sophisticated stories.
10. Audiobook Sync
AudiobookSYNC is a free summer audiobook program for teens(13+). In 2018, 26 titles were released over 13 weeks. SYNC introduces a variety of audiobook adventures to teens to demonstrate that reading can be accomplished by listening. You can also sign-up to the official website to receive notifications and alerts when the free audiobook download is available.
---
These were just a few to mention. Apart from these there also exist various other websites, some for free and some which might cost you a bit. The Audiobooks app is a place to find free audiobooks, with a much easier-to-use interface.
Audiobooks are the future of the whole Education and Learning sector and make sure you are on par with the rest if you want to uplift yourself by reading books, but you don't find the time for it.
Now, there's nothing else left than to grab those headphones, visit these sites, and to relive your reading experience differently. I hope my Audiobook advice for you would see new arenas to explore.
If you don't want audiobooks, you can find so, so many free ebooks online for your reading pleasure.
Happy reading…. No, listening!
Related Articles
Top Anime Sites to Watch and Stream Your Favorite Anime
Ultrawide Wallpapers Collectio
n
Textsheet Alternatives