How to Port to Jio Sim From Any Network [MNP Offers]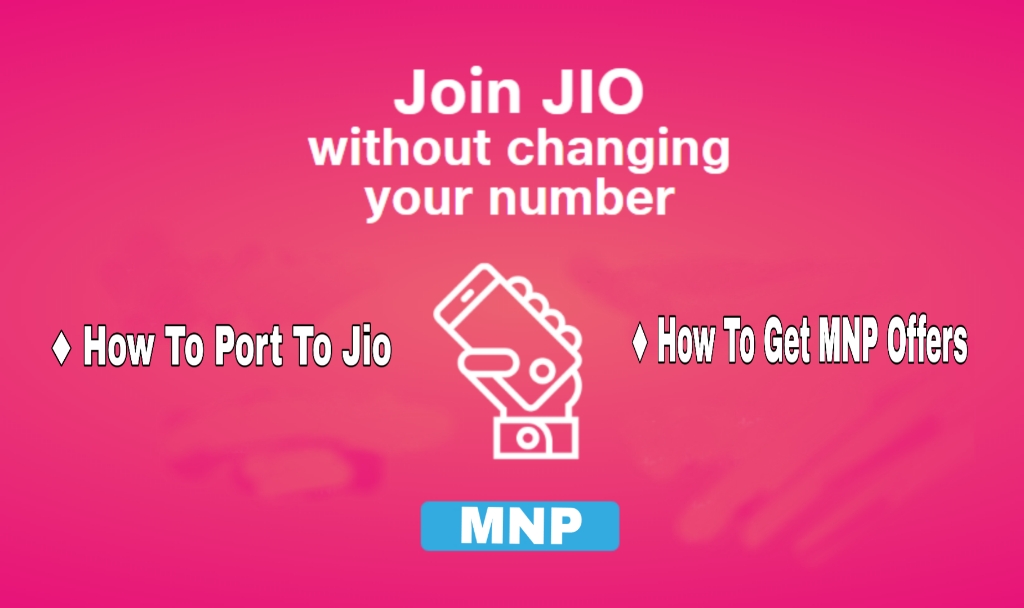 Port to Jio: Mobile Number Portability Steps + How to get Exclusive Offers
Would you like to be a Jio customer without changing your existing mobile number? Would you like to know how to Port to Jio and want to know which offers you will get and how to get that when Port-in to Jio? If these are your doubts, then this Jio Mobile Number Portability Guide will surely help you.
READ:
Message Center Number List for All Operators
A lot of people are experiencing difficulty with their network connection in their areas, some are complaining about bad offers they are getting from their service provider. Mobile Number Portability(a.k.a MNP) is a service that can be useful in such situations.
Requirements to Port to Jio 4G Network
You need to have a 4G Mobile to Port your Number to Jio. Also, the number you want to port should be active. A further requirement is Your current SIM must have balance or an STD message pack to send a Message (If you are a Postpaid Customer you must clear all your pending dues with the existing network).
Port Any Mobile Number To Jio: MNP Steps
---

Let's start with How you can Port your Mobile number to Jio. It's effortless, do the following steps carefully
The first thing to do is send a text message from your mobile number which you want to port to jio. Send the message as follows. (No matter which Network you are using message format is same for all networks. So there is no confusion if you are Airtel or Vodafone or Idea or BSNL)
PORT<space>YOUR TEN DIGIT MOBILE NUMBER to 1900
e.g., PORT 9995158821 to 1900
Make sure that the message sent from the mobile number you need to port
2. If the message sent successfully, you will receive a message immediately with a code in it. That is your Unique Porting Code(UPC) which is essential for the Port Out Process. So Don't delete that message, if you want to delete that message, please note down the code in a paper or somewhere else.
PS: Unique Porting Code only valid for 15 Days.
3. The Next step is to Download an application on your smartphone. Open Play store/Appstore>Search "Myjio" then download Myjio Application. And Generate an offer code through the app.
You can Download Jio App From Here
4. After completing the above steps, Walk into the any preferred Jio store, Reliance Digital Express, Reliance Digital Xpress Mini, or Prominent Multi Brand Jio Stores with the Port-out code(UPC Code) and your free welcome offer code along with your smartphone.
You would also need to submit a copy of any of your Identity and Address proof such as Aadhar Card, Passport or Voter ID Card along with a couple of passports sized photographs for obtaining your Jio sim card. (No need to carry Photographs if you have Aadhar card. For Aadhar card Biometric verification is enough).
DONE! Avail Exclusive Offers From Jio Afterwards
---
Tips to Remember When Porting Your Jio Number
The MNP process cost was ₹19 Earlier, but TRAI slashed mobile number portability fee to ₹4 in 2018 even though most companies will not charge you for the porting process.
Now it is better to carry Aadhar card for port-in/port-out process because it will help make MNP process much easier and you don't need to carry photographs if you have Aadhar card.
For Jio Network when you collect the sim, they will ask you to recharge for using the sim. It will cost you ₹99+ Charge of the plan You Choose
Note: ₹99 is the cost of Jio prime membership
Click here To Know the Latest Plans & Offers from Jio
---
Advantages of Porting to Jio
Jio made a revolution in the Indian Mobile Network industry. With Jio's New offers, all other companies were forced to reduce their rates, and they also started giving new offers. However, let's see the advantages of Jio SIM which makes Jio better than other networks.
High-Speed Internet Service at very Low COST: Jio gives better offers than any other network, and they assure that they will give 20% more DATA than Competitor's Best Plans for the same price.
One of the Biggest advantages of Jio network is NATIONWIDE FREE ROAMING. So you can use Jio Sim anywhere in India without roaming charges
Jio is the First 4G only network in India, So you don't have to worry about the network dropping to 2G or 3G.
Unlimited Calls and SMS: With all of the Jio Plans users can enjoy unlimited calls and 100 free SMS every day (100 is the limit set by TRAI, which is the same for all networks)
FREE CALLER TUNE: Jio is not charging for setting Caller Tunes. So change your Caller tune as per your mood free of cost. Choose from a wide variety of 4Lakh songs. There are 3 Ways to activate your Jio Tunes Click here
Compelling APPS & Content: Every Jio user can enjoy their compelling free Applications such as Jio TV(Watch all Channels for Free), JioMusic(Now JioSavn. Music for you. Anytime. Anywhere), JioXpressNews (Get the latest news stories in 10+ Indian languages from over 500 sources), JioCinema (Movies, TV Shows, Music & more)…. and many more
Easy Account Management: User can manage account easily with Myjio App. Get one-touch access to Balance& Validity, Usage of Data Consumption & Voice.. etc. Also, you can manage all of the Jio services with this single Application.
Jio: Disadvantages
Due to the 4G only Support, Jio Sim does not work on any other Feature phone than Jio Phone
If the user doesn't have a VoLTE supported Mobile, the user need to install a separate application for Calling & Texting. Which only works when Mobile Data is On. So there is battery consumption issue will happen if you don't have VoLTE Support.
Note: This only affects a few people, because all the smartphones now releasing are VoLTE supported.
Network Issues: people living in remote urban areas facing network issues and Call Drops due to Network congestion
Update: The issue was at the start of Jio. Now in many areas coverage is better
---
Jio Mobile Number Poratability: FAQ's
Is it advisable to port my primary sim to Jio?
Check coverage in your area, if it's good then go ahead
How do I find the Nearest Jio Store?
You can find nearest Jio store in 2 ways using Myjio App or by visiting Jio.com
Myjio App method: Select Locate Us from the menu button then Tap on Store.
Jio.com Method: Go to Find a Store, there will be a search box, you can enter your location there and select nearest one from a list of Jio store locations with their address
How to Claim Jio Welcome Offer?
There is No Welcome Offer now. Every user is getting the same offer. So after the first recharge, you can enjoy all the Jio benefits
---
That's all. Hope you understand How to Port to Jio. If you've any doubts regarding the JioMobile Number Portability Guide, feel free to comment here, I will be happy to help you out. If you like this post Please do share this with your friends also:)