[Revealed] Jio Republic Day 2018 Offer : Rs.50 Lower Price & 50% More Benefit
[Revealed] Jio Republic Day 2018 Offer: Rs.50 Lower Price & 50% More Benefit
Hi Cyber4Geeks Readers. Jio announced their new offer 3 days before Republic Day 2018. Jio already revised their plans on New Year 2018 and launched new plans of 1.5GB Data/Day and increased validity of some plans. And now JIO came up with their new attractive offer especially for guys who are upset with their 1GB limit.
Check The HAPPY NEW YEAR 2018 Offer From JIO
Under the New JIO Republic Day 2018 Offer, Their 1 GB plans of Rs. 149, Rs. 349, Rs. 399 and Rs. 449 has been revised and now customer will get 50% more data than earlier. ie: 1.5GB/Day. Under this Jio Happy NewYear 2018 Offer, they don't have 1GB plans. Likewise, the 1.5GB data daily plans will now offer 2GB of high-speed data per day. So customers get 0.5 GB Extra Dat with all of their 1.5 GB plans.So simply they withdrew their RS.299 as customers getting the same offer with RS.198 Recharge.
Check Each and Every Detail Below
Also In JIO Republic Day 2018 Offer, Customers will get 2GB DATA for the entire offer period on The Monthly Plan of RS.98, Earlier it was 150MB/Day. JIO doubles the validity Of RS.98 PLAN from 14 DAYS to 28 DAYS.
Take Portrait Mode Pictures on Any DEVICE [Google Camera Mod Latest APK] [Works With the Front Camera Also]
NOTE: Offer Starts from January 26, 2018. Customers who recharge before the specific date will not get the offer, They Only GET the JIO HAPPY NEW YEAR 2018 OFFER Only.
How to Port your Mobile Number to Jio [MNP Steps & Offers 2018]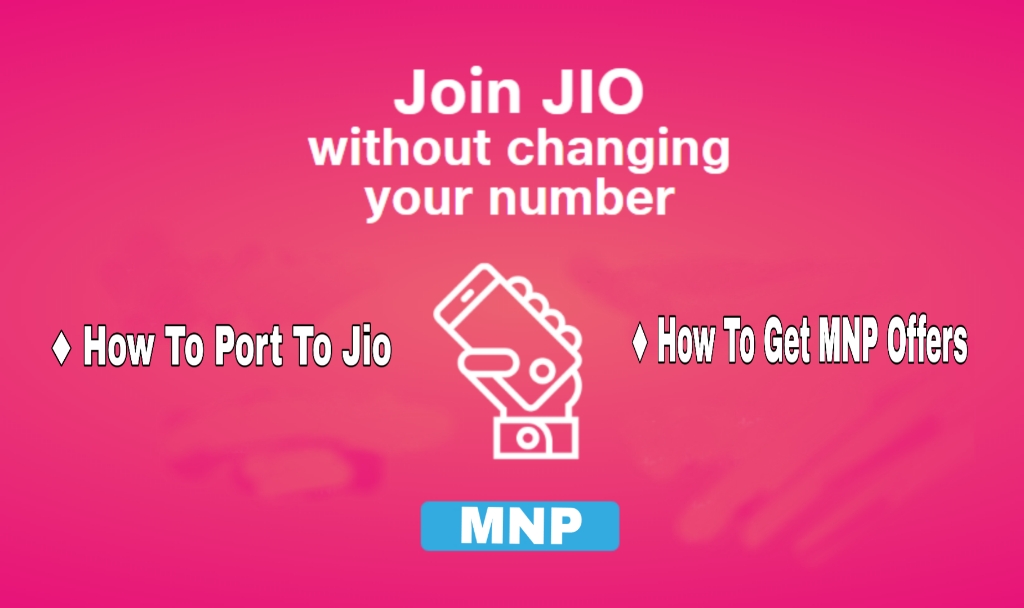 Jio Mobile Number Portability Steps + How to get Exclusive Offers
Would you like to be a Jio customer without changing your existing mobile number? Would you like to know how to Port to Jio and want to know which offers you will get and how to get that when Port-in to Jio? If these are your doubts, then this Jio Mobile Number Portability Guide will surely help you.
A lot of people are experiencing difficulty with their network connection in their areas, some are complaining about bad offers they are getting from their service provider. Mobile Number Portability(a.k.a MNP) is a service that can be useful in such situations.
Port Any Mobile Number To Jio: MNP Steps
---

Requirements to Port to Jio Network
You need to have a  4G Mobile to Port your Number to Jio. Also, the number you want to port should be active. A further requirement is Your current SIM must have balance or an STD message pack to send a Message (If you are a Postpaid Customer you must clear all your pending dues with the existing network).
Let's start with How you can Port your Mobile number to Jio.  It's effortless, do the following steps carefully
 The first thing to do is send a text message from your mobile number which you want to port to jio. Send the message as follows. (No matter which Network you are using message format is same for all networks. So there is no confusion if you are Airtel or Vodafone or Idea or BSNL)
PORT<space>YOUR TEN DIGIT MOBILE NUMBER   to  1900
e.g., PORT 9995158821 to 1900
Make sure that the message sent from the mobile number you need to port
2.  If the message sent successfully, you will receive a message immediately with a code in it. That is your Unique Porting Code(UPC) which is essential for the Port Out Process. So Don't delete that message, if you want to delete that message, please note down the code in a paper or somewhere else.
PS: Unique Porting Code only valid for 15 Days.
3. The Next step is to Download an application on your smartphone. Open Play store/Appstore>Search "Myjio" then download Myjio Application. And Generate an offer code through the app.
You can Download Jio App From Here
 4.  After completing the above steps, Walk into the any preferred Jio store, Reliance Digital Express, Reliance Digital Xpress Mini, or Prominent Multi Brand Jio Stores with the Port-out code(UPC Code) and your free welcome offer code along with your smartphone.
You would also need to submit a copy of any of your Identity and Address proof such as Aadhar Card, Passport or Voter ID Card along with a couple of passports sized photographs for obtaining your Jio sim card. (No need to carry Photographs if you have Aadhar card. For Aadhar card Biometric verification is enough).
DONE! Avail Exclusive Offers From Jio Afterwards
---
Tips to Remember When Porting Your Number
The MNP process cost was ₹19 Earlier, but  TRAI slashed mobile number portability fee to ₹4 in 2018 even though most companies will not charge you for the porting process.
Now it is better to carry Aadhar card for port-in/port-out process because it will help make MNP process much easier and you don't need to carry photographs if you have Aadhar card.
For Jio Network when you collect the sim, they will ask you to recharge for using the sim. It will cost you ₹99+ Charge of the plan You Choose
Note: ₹99 is the cost of Jio prime membership
Click here To Know the  Latest Plans & Offers from Jio
---
Advantages of Porting to Jio
Jio made a revolution in the Indian Mobile Network industry. With Jio's New offers, all other companies were forced to reduce their rates, and they also started giving new offers. However, let's see the advantages of Jio SIM which makes Jio better than other networks.
High-Speed Internet Service at very Low COST: Jio gives better offers than any other network, and they assure that they will give 20% more DATA than Competitor's Best Plans for the same price.
One of the Biggest advantages of Jio network is NATIONWIDE FREE ROAMING. So you can use Jio Sim anywhere in India without roaming charges
Jio is the First 4G only network in India, So you don't have to worry about the network dropping to 2G or 3G.
Unlimited Calls and SMS: With all of the Jio Plans users can enjoy unlimited calls and 100 free SMS every day (100 is the limit set by TRAI, which is the same for all networks)
FREE CALLER TUNE: Jio is not charging for setting Caller Tunes. So change your Caller tune as per your mood free of cost. Choose from a wide variety of 4Lakh songs. There are 3 Ways to activate your Jio Tunes Click here
Compelling APPS & Content: Every Jio user can enjoy  their compelling free Applications such as Jio TV(Watch all Channels for Free), JioMusic(Now JioSavn. Music for you. Anytime. Anywhere), JioXpressNews (Get the latest news stories in 10+ Indian languages from over 500 sources), JioCinema (Movies, TV Shows, Music & more)…. and many more
Easy Account Management: User can manage account easily with Myjio App. Get one-touch access to Balance& Validity, Usage of Data Consumption & Voice.. etc. Also, you can manage all of the Jio services with this single Application.
Jio: Disadvantages
Due to the 4G only Support, Jio Sim does not work on any other Feature phone than Jio Phone
If the user doesn't have a VoLTE supported Mobile, the user need to install a separate application for Calling & Texting. Which only works when Mobile Data is On. So there is battery consumption issue will happen if you don't have VoLTE Support.
Note: This only affects a few people, because all the smartphones now releasing are VoLTE supported.
Network Issues: people living in remote urban areas facing network issues and Call Drops due to Network congestion
Update: The issue was at the start of Jio. Now in many areas coverage is better
---
PORT to Jio: FAQ's
Is it advisable to port my primary sim to Jio?
Check coverage in your area, if it's good then go ahead
How do I find the Nearest Jio Store?
You can find nearest Jio store in 2 ways using Myjio App or by visiting Jio.com
Myjio App method: Select Locate Us from the menu button then Tap on Store.
Jio.com Method: Go to Find a Store, there will be a search box, you can enter your location there and select nearest one from a list of  Jio store locations with their address
How to Claim Jio Welcome Offer?
There is No Welcome Offer now. Every user is getting the same offer. So after the first recharge, you can enjoy all the Jio benefits
---
That's all. Hope you understand How to Port to Jio. If you've any doubts regarding the Mobile Number Portability Guide, feel free to comment here, I will be happy to help you out. If  you like this post Please do share this with your friends also:)
Current Jio plans & Offers Prepaid | Postpaid [Latest]
Latest Jio Plans and Offers For Prepaid and Postpaid
Reliance Jio has announced their new plans offering 50% additional data than their existing plans. In latest Jio plans they slashed the prices of four of its plans by Rupees 50. We've added latest plans and offers from Jio. If you want to know the latest plans and best offers of Jio, this post will definitely help you. If you are not a Jio customer Here's How To Port to Jio
Jio Latest Prepaid Plans Table
---
Jio Long Term Plans
Now with this latest Jio plans announcement, Rs. 199, Rs. 399, Rs. 459 and Rs. 499 plans will cost Rs. 50 less. All Jio plans will continue to offer free and unlimited local, STD and roaming calls and free SMSes within India. as top carriers, Bharti Airtel, Vodafone India and Idea Cellular competing on their promotion, users are getting valuable offers from these networks
latest Jio plans 2019 – With Rs. 198, Rs. 398, Rs. 448 and Rs. 498 plan get 2 GB of 4G data per day and it will have a validity of 28 days, 70 days, 84 days and 91 days, respectively. If you need a document of Full prepaid plans you can download it from below
Download Jio Prepaid Plan Vouchers
Download Jio Top Up Plans Full Info
Jio Postpaid Plans
---
Jio Postpaid Offers Very low international calling & roaming charges. You can save up to 90% with Jio postpaid latest tariffs. Download Full details of Jio Postpaid Plans from here
Jio Postpaid Main Plan
Jio Postpaid Global ISD Pack
ALSO READ: How to Remove Your Number From Truecaller Database Permanently
Note: These Revised Jio plans will be available to the Jio customers from Tuesday, 9th January 2018 onwards.
So avail best offers from Jio network and use apps such as Phonepe, Paytm, Mobikwik ..etc to get extra discounts
Terms and conditions
Voice is truly free – no charge towards voice or the data used to make 4G voice calls.
Prepaid tariffs are inclusive of all applicable taxes. Applicable taxes will be extra for all Postpaid tariffs plans.
All customers will have the option to opt for Jio Prime membership upon subscription to any available Prepaid or Postpaid plan and payment of Rs. 99.
For prepaid subscribers one month denotes 28 days and for Postpaid subscribers it denotes one bill cycle.
The subscriber must have an active prepaid/Postpaid Plan to avail the additional benefits offered under Jio Prime.
All Postpaid subscribers opting for Jio Prime are also required to opt for e-bill and autopay options.
Unlimited SMS referred in the plan benefits will be capped at 100 free SMS per day in compliance with TRAI Regulations.
Talktime mentioned in the Top-up voucher refers to a monetary value which can be used for availing chargeable services in respective plans.
Unutilized free benefits will be forfeited at the end of validity.
The above 4G plans can only be availed by customers possessing an LTE compatible device.
What to Read Next?