How To Speed Up Internet Using Command Prompt
How To Speed Up Internet Using Command Prompt in Windows.
In this article, We guide you to How To Speed Up Internet Using Command Prompt in Windows.
Uses of the Internet in our daily life is depending on desires and goals. Internet innovated our daily life. We spend lot's of time on the Web. We all get frustrated when technology is not cooperating with us, especially when we need it too. I am going to give you a trick to increase internet speed on Windows(7,8,8.1,10) by using the command prompt. So have a look on complete guide discussed below to proceed.
These methods are simple and easy and you just need to use some commands that will boost up your internet speed to some extent. So follow up some simple steps below.
Commands To Speed Up Internet Using Command Prompt:
First of all in your windows PC click on Start and Type "cmd" in Search program and files box (right click and select Run as Administrator). Now command prompt will appear and in command prompt go to root directly "C:\" by typing "cd C:\".
Now you need to execute the below commands to speed up internet in your PC.
#1 Check the Internet Speed Using Default Gateway Ping
Before executing commands you will need to check the internet speed from the default gateway that your PC had currently connected to and for that first you need to find the default gateway address and then check the connection speed at that IP address.
 > First of all, find the default gateway by entering the command ipconfig /all in the command prompt. And there note down the default gateway address.
> Now you need to ping the connection on default gateway and for that enter the command ping -t <your default gateway address>. 
And with this, you will see the time periods of the packet that's acknowledgment is received and lesser the time period more is the internet speed. Now our target will be to minimize this time period.
#2 Releasing The Allocated IPs
When your device has connected to the internet connection the IP address are allocated to the devices and the speed got limits to that IP connection and you can release that and can renew it by entering the command:
ipconfig  /renew
#3 Flushing The DNS
In most of the operating systems and DNS, clients will automatically cache IP addresses and other DNS results and this is done in order to speed up subsequent requests to the same hostname. Sometimes bad results will be cached and therefore need to be cleared from the cache in order for you to communicate with the host correctly which can lead up the slow connection, so better to flush all these DNS. In Windows OS in cmd, you need to enter the below command to flush the DNS. : ipconfg /flushdns
#4 Using netsh Interface TCP command
There are two types of commands that you need to enter in your command prompt to boost up your internet speed.
"netsh interface tcp set global autotuning=disable".
"netsh interface tcp set heuristics disabled"
After entering these commands you can check your default gateway speed to and also the change in the internet speed that will be quite easily visible to you.
Thanks for reading my article about speed up internet connection using cmd in windows. Hope you like the post, don't forget to share it with others too. Leave a comment below if you have any related queries with this.
How to Port your Mobile Number to Jio [MNP Steps & Offers 2018]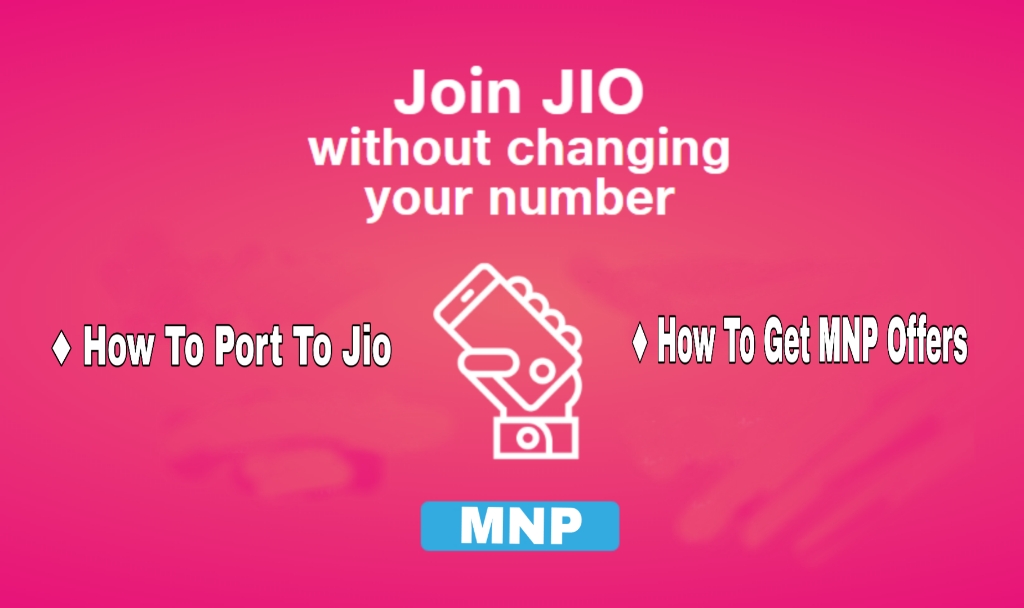 Port to Jio: Mobile Number Portability Steps + How to get Exclusive Offers
Would you like to be a Jio customer without changing your existing mobile number? Would you like to know how to Port to Jio and want to know which offers you will get and how to get that when Port-in to Jio? If these are your doubts, then this Jio Mobile Number Portability Guide will surely help you.
A lot of people are experiencing difficulty with their network connection in their areas, some are complaining about bad offers they are getting from their service provider. Mobile Number Portability(a.k.a MNP) is a service that can be useful in such situations.
Port Any Mobile Number To Jio: MNP Steps
---

Requirements to Port to Jio 4G Network
You need to have a  4G Mobile to Port your Number to Jio. Also, the number you want to port should be active. A further requirement is Your current SIM must have balance or an STD message pack to send a Message (If you are a Postpaid Customer you must clear all your pending dues with the existing network).
Let's start with How you can Port your Mobile number to Jio.  It's effortless, do the following steps carefully
 The first thing to do is send a text message from your mobile number which you want to port to jio. Send the message as follows. (No matter which Network you are using message format is same for all networks. So there is no confusion if you are Airtel or Vodafone or Idea or BSNL)
PORT<space>YOUR TEN DIGIT MOBILE NUMBER   to  1900
e.g., PORT 9995158821 to 1900
Make sure that the message sent from the mobile number you need to port
2.  If the message sent successfully, you will receive a message immediately with a code in it. That is your Unique Porting Code(UPC) which is essential for the Port Out Process. So Don't delete that message, if you want to delete that message, please note down the code in a paper or somewhere else.
PS: Unique Porting Code only valid for 15 Days.
3. The Next step is to Download an application on your smartphone. Open Play store/Appstore>Search "Myjio" then download Myjio Application. And Generate an offer code through the app.
You can Download Jio App From Here
 4.  After completing the above steps, Walk into the any preferred Jio store, Reliance Digital Express, Reliance Digital Xpress Mini, or Prominent Multi Brand Jio Stores with the Port-out code(UPC Code) and your free welcome offer code along with your smartphone.
You would also need to submit a copy of any of your Identity and Address proof such as Aadhar Card, Passport or Voter ID Card along with a couple of passports sized photographs for obtaining your Jio sim card. (No need to carry Photographs if you have Aadhar card. For Aadhar card Biometric verification is enough).
DONE! Avail Exclusive Offers From Jio Afterwards
---
Tips to Remember When Porting Your Number
The MNP process cost was ₹19 Earlier, but  TRAI slashed mobile number portability fee to ₹4 in 2018 even though most companies will not charge you for the porting process.
Now it is better to carry Aadhar card for port-in/port-out process because it will help make MNP process much easier and you don't need to carry photographs if you have Aadhar card.
For Jio Network when you collect the sim, they will ask you to recharge for using the sim. It will cost you ₹99+ Charge of the plan You Choose
Note: ₹99 is the cost of Jio prime membership
Click here To Know the  Latest Plans & Offers from Jio
---
Advantages of Porting to Jio
Jio made a revolution in the Indian Mobile Network industry. With Jio's New offers, all other companies were forced to reduce their rates, and they also started giving new offers. However, let's see the advantages of Jio SIM which makes Jio better than other networks.
High-Speed Internet Service at very Low COST: Jio gives better offers than any other network, and they assure that they will give 20% more DATA than Competitor's Best Plans for the same price.
One of the Biggest advantages of Jio network is NATIONWIDE FREE ROAMING. So you can use Jio Sim anywhere in India without roaming charges
Jio is the First 4G only network in India, So you don't have to worry about the network dropping to 2G or 3G.
Unlimited Calls and SMS: With all of the Jio Plans users can enjoy unlimited calls and 100 free SMS every day (100 is the limit set by TRAI, which is the same for all networks)
FREE CALLER TUNE: Jio is not charging for setting Caller Tunes. So change your Caller tune as per your mood free of cost. Choose from a wide variety of 4Lakh songs. There are 3 Ways to activate your Jio Tunes Click here
Compelling APPS & Content: Every Jio user can enjoy  their compelling free Applications such as Jio TV(Watch all Channels for Free), JioMusic(Now JioSavn. Music for you. Anytime. Anywhere), JioXpressNews (Get the latest news stories in 10+ Indian languages from over 500 sources), JioCinema (Movies, TV Shows, Music & more)…. and many more
Easy Account Management: User can manage account easily with Myjio App. Get one-touch access to Balance& Validity, Usage of Data Consumption & Voice.. etc. Also, you can manage all of the Jio services with this single Application.
Jio: Disadvantages
Due to the 4G only Support, Jio Sim does not work on any other Feature phone than Jio Phone
If the user doesn't have a VoLTE supported Mobile, the user need to install a separate application for Calling & Texting. Which only works when Mobile Data is On. So there is battery consumption issue will happen if you don't have VoLTE Support.
Note: This only affects a few people, because all the smartphones now releasing are VoLTE supported.
Network Issues: people living in remote urban areas facing network issues and Call Drops due to Network congestion
Update: The issue was at the start of Jio. Now in many areas coverage is better
---
PORT to Jio: FAQ's
Is it advisable to port my primary sim to Jio?
Check coverage in your area, if it's good then go ahead
How do I find the Nearest Jio Store?
You can find nearest Jio store in 2 ways using Myjio App or by visiting Jio.com
Myjio App method: Select Locate Us from the menu button then Tap on Store.
Jio.com Method: Go to Find a Store, there will be a search box, you can enter your location there and select nearest one from a list of  Jio store locations with their address
How to Claim Jio Welcome Offer?
There is No Welcome Offer now. Every user is getting the same offer. So after the first recharge, you can enjoy all the Jio benefits
---
That's all. Hope you understand How to Port to Jio. If you've any doubts regarding the Mobile Number Portability Guide, feel free to comment here, I will be happy to help you out. If you like this post Please do share this with your friends also:)
[Latest] Download Google Camera with Portrait Mode&Night Sight for Poco F1 & Mi 8
Yes Guys, Finally the wait is over. we were unable to get the portrait mode work on the earlier Gcam mod.  Google Camera port for Poco F1  with  Working portrait mode + Night Sight + better HDR+ Algorithm is available now. Thanks to B-S-G(The guy who's the reason for Google Camera ports today). This poco F1 gcam will work in Mi8 also.
You can download the Gcam mod apk below. I recommend you to remove any previous or existing gcam installations of gcam before installing the latest one. If you don't know the speciality of the Gcam app, download the apk after reading What is Google Camera?
Update: Now you can Download the latest Pixel 3 Gcam mod For Poco F1 & Mi8. Enjoy the New interface of Google camera
What is Google Camera?
Google Camera (a.k.a Gcam) is a camera application that comes pre-installed on google's pixel smartphones. It was available on Playstore before the pixel phone was released. when it came to Pixel phones, features like HDR+, Portrait Mode and Google software processing made the pixel's single-camera better. Now Gcam is very popular since developers started porting it to other phones. The advantage is that you get a better image quality through Google's software processing.
Gcam Mod for Poco F1 [Review]
The camera interface is pretty much similar to any other Pixel port. We suggest not tweaking the settings much as it could result in crashes and inconsistencies. unfortunately, the slow-motion mode also doesn't work well, and it will crash the app if you select it. We tried the 4K video shoot with this Gcam Mod,  Although the settings show support for 4K with stabilisation you get unstabilized 4K videos.
When it comes to the main part "The Portrait Mode" it works with both the front and rear Camera, the blurring algorithm is amazing and we got a great amount of detail and sharpness captured on the subject. There is a slight crop just like you would see on the pixel phones but even with that the detail result is very good and it makes full use of poco f1 sensor abilities. we are adding some sample shots from gcam and stock camera app here, these shots will show you the difference
Gcam Samples From Poco F1
What is Working
 HDR+ & portrait
 RAW functionality
Manual Saturation control
Portrait mode on front & back camera
4K Video Recording (30fps)
Not Working
ZSL, Slow-Mo, Smart burst not working
How To Install Modded Gcam On Poco F1
Xiaomi  devices with Qualcomm Snapdragon 710 and 845 have camera2api enabled by default, so you don't have to unlock the bootloader or root your device. just download the latest poco f1 gcam apk from link given below and  install
PS: Better download stable version for bug free experience
DOWNLOAD GCAM MOD FOR POCO F1 5.1 ( Stable)
DOWNLOAD GCAM MOD FOR POCO F1 5.3 ( Testing)
DOWNLOAD GCAM MOD (Pixel 3 Style) FOR POCO F1 6.1
Hope you enjoyed this Poco F1 Gcam tutorial, visit this page for latest Gcam mod apk 🙂
Take Portrait Mode Pictures on Any DEVICE [Complete Guide]
Take Portrait Mode Pictures on Any DEVICE [Google Camera Mod Latest APK] [Works With the Front Camera Also]
The Google Pixel 2 XL's camera module is perhaps one of the best in the market, Apart from the hardware, the camera application that is included with the Google -pixel 2 XL is a marvel alone, as it provides features like Google's HDR Plus setting, that allows for better powerful range, leading to clearer, crisper images. Portrait Mode Pictures on Any DEVICE
We all got a little jealous of The Google Pixel 2 XL camera, Its Okay Don't Worry, The Google Camera app for Android provides its own particular lens blur effect could simple to use and doesn't require dual cameras. Also, the Portrait mode for selfies in the pixel is just amazing
We guide to how to get all these features on your smartphone with below simple steps
Before heading on to requirements, check your device compatibility with Below provided app
After downloading open it up and click start If it shows GREEN on all options you are good to go
or else you need below setups
This Google camera Mod application supports on all devices working Android Oreo and some Nougat installed devices. Make an effort to install Oreo Roms on your device to prevent compatibility problems.
In case your gadget has Snapdragon 625 processor chip, it will function fine.
Things needed if Compatability check not passed
1. Your Device Must be Rooted
2. Camera2Api Enabler
Add the zip in Magisk Manager -> Modules and reboot.
Or flash it in your custom recovery, TWRP etc.
If you have any doubts about Magisk Manager Check This: How to Install and Download Magisk Manager & Root With Custom Recovery Latest
After Installing the zip file got the Compatability Check app, Click START it will show all GREEN
Then download Latest Google Camera Mod Apk From Below Link, Install it.
(Portrait selfies Working Version)
Open the camera app you just downloaded
If you can't find the portrait mode just go to Settings> Advanced Settings and enable portrait mode
We are Providing the settings we use
Config Camera HDR+: NEXUS 6
Model: Pixel2 XL/ NEXUS 6P
HDR+ Parameters: default
Check this thread, if you need the best settings for this mod camera, we will update this thread with latest mods and settings.
Edge detection works well with this app. Just try and leave your feedback below
If you have any queries regarding this let us know on Facebook or Twitter
We are happy to help you.